By Santa Clarita Handyman Service | June 3, 2021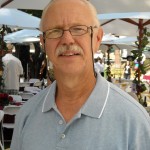 Whether you have a small home repair or need several things done, I am the  handyman available to help you. Call me at 661-296-0806 to arrange for your free estimate. I am here to serve you!
Topics: Santa Clarita Handyman | No Comments »
By Santa Clarita Handyman Service | May 16, 2021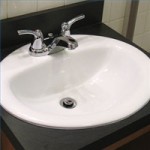 Repairing or replacing your bathroom faucets will update the look of your home. I am able to install   most types of fixtures, so call me today and let's discuss your needs. In Santa Clarita, bathroom faucet repair is a simple task.
Topics: Santa Clarita Bathroom Faucet Repair | No Comments »
By Santa Clarita Handyman Service | May 12, 2021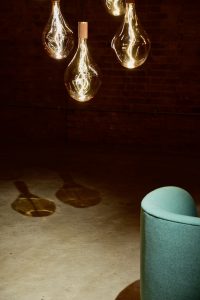 Are you looking for ways to save money and cut down on energy costs drained by your lighting options?  There are some ways you can accomplish this without interfering with the quality of lighting you need in your home. Here are some ways you can provide enough lighting but cut down on costs.
One way to cut costs is by using a good quality light bulb. The cheaper ones are enticing because they cost less in the store, but sometimes they can end up costing you more on your energy bill and they don't last as long as the more expensive, energy-saving bulbs.
Use fluorescent bulbs wherever you need a good amount of lighting. Fluorescent bulbs give off a nice soft, but ample light and last a lot longer than regular light bulbs. These bulbs can be used in pretty much any light fixture and there are some that come in a more compact form so that they fit into a regular fixture.  You don't have to have long store-like lighting fixtures with long, narrow bulbs anymore when you're thinking florescent.
Halogen bulbs also provide a lot of light and will last much longer than regular bulbs. They do require much more care when handling them and they have a tendency to get hot when they've been on for awhile, but they cut down on energy costs within your home.
Use a smaller wattage bulb in fixtures or lamps that don't necessarily need that much light. If you can get by with a 25 watt bulb in an area, then replace the higher 60 watt or 100 watt bulbs you probably have in there now.
Utilize different lighting techniques by trying track lighting wherever possible. Track lighting offers multiple light fixtures on one track that can be pointed in different directions in the room. By strategically pointing them to different areas of the room, you can eliminate the need for any more lamps or lighting choices in that area.
Install a light-dimming switch wherever you can. This allows you to adjust the amount of light within your room as you need it. If you need a lot of light, you can turn it on all the way and when you need only a little light, you can turn it down to the level of light that you want. By not using the full energy from the lighting all of the time, you can cut down quite a bit on energy costs.
Using these tips, you'll save money on your energy bill and in how much you have to spend annually on light bulbs because the cheaper ones fizzled out.  Just remember that you don't have to sacrifice top quality lighting just to cut costs.
I'm not a contractor, but as a licensed handyman I am here if you need my services and help with any of these things. I love working side by side with homeowners. Call me at 661.296.0806.~ Claes Green
Topics: Santa Clarita Handyman | No Comments »
By Santa Clarita Handyman Service | May 12, 2021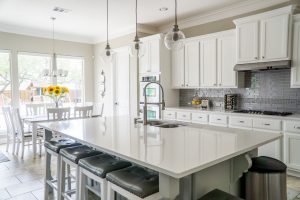 Kitchen remodeling can be an expensive and time-consuming task. With everything potentially involved in a kitchen remodel, the costs can skyrocket higher and higher every day of the project.
You don't have to break the bank if you don't want to, though.  There are some ways you can still change the look of your kitchen for a fraction of what it would cost to do a major remodel.
Here are five ways you can remodel your own kitchen on a budget:
Painting – Painting is the simplest thing you can do to change the look of your kitchen without knocking down walls. Not only can you update the color of your walls, but you can paint a room to make it appear more spacious, too.
Tiling – Tiles can change the look of your kitchen and modernize it if it seems outdated. Using tiles as a backsplash on the wall or covering your floor with them can give your kitchen the appearance of a major renovation even when you didn't have to call in the professionals.
Cabinets – Replacing your cabinets can be costly. You can get the same effect and spend a little less if you just change the existing cabinetry.  Paint them and add new hardware that reflects an updated style.
If cabinet space is your dilemma, then you might want to replace your existing ones with unfinished cabinets, saving you money.  You can then go back and paint them or make them any style you want.
Lighting – You'd be amazed at how a different light fixture can change the whole look of your kitchen. Try going with an elegant light fixture or even an exotic looking ceiling fan/light fixture to breathe life into your remodeling project.
New Appliances – Purchasing new appliances can be a costly way to remodel your kitchen, but it can still save you money compared to a major overhaul. Plus, if you update your kitchen with energy-saving appliances, you'll get your money back over time. You may want to try stainless steel appliances, or change the color scheme from black to white.
These small changes can give the illusion of major remodeling, and no one but you will know the truth. The eyes of your visitors are drawn to the changes you made in your kitchen, so your friends and family aren't likely to notice that you didn't fully change things out unless you choose to tell them.
I'm not a contractor, but as a licensed handyman I am here if you need my services and help with any of these things. I love working side by side with homeowners. Call me at 661.296.0806.
~ Claes Green
Topics: Santa Clarita Handyman | No Comments »
By Santa Clarita Handyman Service | May 9, 2021
Winter-Proofing Your Home
Colder temperatures and blustery winds will soon be a part of our daily life as winter ebbs ever closer. It's important to begin winterizing your home long before the icy temperatures arrive. By taking a little time each weekend, your home will be ready for winter weather without much effort. You can keep more warmth in your home by taking the time to winter-proof your home.
Begin by checking with your local utilities to see if they have any programs to help you save on your winter energy bills. Many utilities have a home heating check-up or can at least recommend steps you can take to ensure your home isn't wasting energy during the winter months. With proper upkeep and weather-proofing, you can save money this year.
One of the easiest things to do to winter-proof your home is to check for leaks around your windows and doors. Light a candle and hold it about six inches from the window or door and move it around slowly. If the candle flickers, you know there's a leak in that area. By weather stripping or caulking to stop the leaks, you can save up to 15% off your heating bill.
After you've added weather stripping, there could still be a draft. You can find plastic sheeting kits at most home improvement or discount stores which will help to block drafts. The plastic sheet is stretched over the window and then gone over with a blow dryer. This creates a barrier which will keep the cold air out.
Crawl under the home or in the attic, wherever your ductwork is, to check the seals as they will wear out over time and with use. Replace any ductwork that is damaged and re-tape any joints which have come loose. While you're working around the ductwork you may also want to ensure there is enough insulation in both areas of your home.
Your heating unit or furnace should be checked each year to ensure it is working properly. Have a professional come out unless you're very familiar with the mechanics of your furnace. Remember to clean or change the filter in your furnace each month during the winter. This will help it run properly and could reduce your heating bill. If your heating system runs on natural gas, you'll want a professional to check it for gas leaks.
Clean out the gutters around your home and inspect the fascia boards. While you're up along the roof, check the roof for damage and cracks in the chimney if you have one. Make any repairs that are needed to ensure your home is as safe and secure as possible before winter arrives.
Winterize your air conditioner, whether it is a window unit or a large whole-house unit. Shut the water off to the air conditioner so you don't have to worry about it freezing. You'll also want to cover it with an insulated blanket to keep snow and debris out of it.
Insulate pipes, wires or vents which lead outdoors. This will help keep cold air outside where it belongs. It would also be helpful to check around your light switches and electrical plugs. If you notice drafts around them, you can put insulation behind the plate to keep the cold air out.
When you winter-proof your home, the time and effort is an investment in your home. Winterizing your home will result in a warmer house even if you set your thermostat a couple of degrees cooler. You'll also notice a difference in your energy bills during the winter months.
Topics: Santa Clarita Handyman | No Comments »
By Santa Clarita Handyman Service | May 6, 2021
I'm Claes Green, the 24 Hour Handyman serving the Santa Clarita Valley.
There are many myths surrounding the idea of saving money on your water heater, and more specifically whether or not reducing the water temperature will save you money. Here is a list of some of those myths and whether or not there is any truth in them.
1. It's best if you leave the hot water heater on at all times rather than turning it on and off.
This is a very common myth, but you actually do not need to be heating your water all the time. As long as your tank has a good insulating jacket, your water will remain hot all day. By not having the hot water heater on all day to heat up your water, you are saving energy and money.
2. A new water heater will offer you substantial savings.
This is a myth. You do save about $6.00 a month in energy costs when replacing an old heater with a new one, but those savings don't take into account the overall price of purchasing a new hot water heater.
3. Older water heaters do not meet safety standards.
When the heater was installed, it was installed under the guidance of the regulations then. If you're worried about it not covering the current safety standards, get it checked out.
4. Older water heaters lead to dirty water.
This is a myth. Water heaters are designed to withstand any build-up. If you notice a rusty color to your water, or if it takes longer than usual to heat up water, get it checked out.
5. Insulate your water heater.
This is something you need to do. Instead of having it run all day so that you'll have a nice hot bath, leave it on for an hour or so. Turn it off and the insulation in your water heater will keep the water hot. By insulating your water heater, it will also lead to a shorter waiting time for your hot water to come through your faucet.
6. Turn down your water heater.
This is true. This is a very quick and energy efficient way to save money. You can get away with turning down the heater to only about 120 degrees Fahrenheit. Some people worry about the bacteria due to not having hotter water, but just make sure you use soap when washing the dishes and you'll kill any leftover bacteria. There wouldn't have been any difference anyway, unless you soak all your dishes in hot water beforehand.
It's important to sort through all of these myths and misconceptions before going through with some of them. Sometimes the things that are said to save you money, will actually cost you more money than you wanted to spend, or just won't save you any money at all.
Knowing the myths and facts about your water heater and how it will work more effectively for you, will help you save money. There might be no need to replace an older water heater as long as it's working properly.
Call me at 661.296.0806 and let's talk about what you need.
Topics: Santa Clarita Handyman | No Comments »